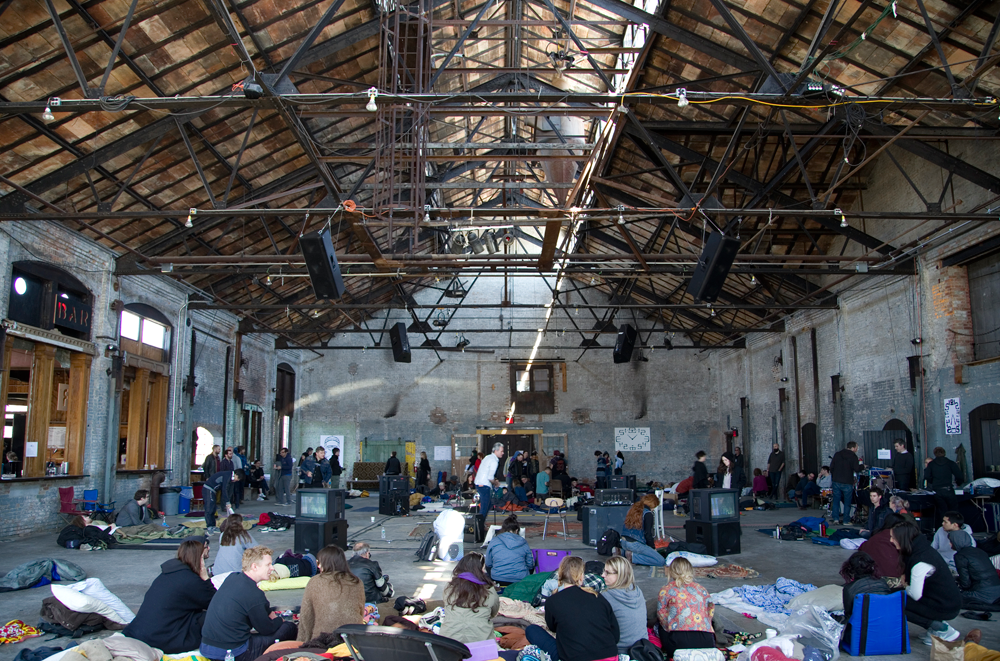 MELISSA AUF DER MAUR
is Co-Founder and Director of Basilica Hudson. From 1994-1999, she was bass player in the alternative rock band Hole and is featured on the Grammy nominated album Celebrity Skin. She joined the Smashing Pumpkins in 2000 for their Farewell World Tour. She has also released two solo albums, Auf der Maur (2004) and Out of Our Minds (2010). The latter project comprises an album, a comic book, and a short film. Auf der Maur's photographs have been exhibited internationally, including at the Montreal Museum of Fine Arts, and have appeared in such publications as Spin, Elle, Nylon, and American Photo. She was born in Montreal, Canada and raised with a fine arts education, focusing on Music and Photography.
Who knew a building could transform a human? We all know humans can transform buildings. But can a building take possession of you from the inside? Change the course of your life? Ground you in brick and mortar?
This is a tale about a girl meeting a man, then a big building in a small town with an epic view and endless "potential" as they often say about lovable things that are a little rough around the edges.
Prior to being captured by a building I was captured by sound. The power of music, the power that music has to give your life direction and profound comfort alone in your discovery of life's infinite questions. I found The Smiths in high school, around the same time my school choir sang Mozart's Requiem with the Montreal Symphony Orchestra. That was all I needed at that moment to be converted into a "power of sound" person.
The Smiths found me crying in the bathroom stalls, in dark corners of the goth clubs I snuck into, praying for breasts to develop, and their music offered me shelter in the unknown of it all. In my room, door locked with homemade rig of shoestring and bells, with The Smiths albums on tape, on auto repeat, the music and the world it came from was my center. My graduation yearbook quote was from The Smiths song "Stretch Out and Wait."
"Will the world end in the night time?
Or will the world end in the day time?
And is there any point ever having children?
Oh, I don't know
All I do know is we're HERE and it's NOW
So… stretch out and wait"
There were other bands finding their way into my inner world, and it is was that space in my head that kept me in my place—in a good way. I had found my space, more conceptual than a "club house" or playing in an actual band, but that came next. A job as a cassette DJ at the local dive bar led me to learn the bass so I could play in a real band and start building a "real" world on the outside, made by my own hands, with real people that I knew, and who I hoped knew me. A home where I could spend time and all my complex emotions and dreams.
The Church
I suppose if I had grown up going to a church—which are usually impressive spaces, full of focused people and age-old ritual—I might have experienced the sense of a building taking hold of me. I began to understand that sense of shared space first when working at a dive bar, then in small music venues where I witnessed the bands that changed my life, then in the theaters, the arenas and the music festivals where I began to fulfill my dream of making music my life: a performing musician, traveling the world with my bass as my magic carpet ride. I became part of the .001 percent of dreamers that are granted the opportunity to make music their livelihood. A once-in-a-lifetime run at an enhanced "music, people, and place" exchange: the defining trip of my young adult life.
Mother Nature
I was born in a real city. A beautiful city, I went to horseback riding camps for a few years mid-teens, but ultimately didn't have a very engaged relationship with nature as a child. I was always a little sad about that. I knew that I was missing out on something magical. I know nature has the power to envelop you: she's timeless, bigger than us, in fact she is us. Nature seemed like an amazing place to feel at home, but I hadn't had the opportunity to do that. I used to stare at the sky, talk to stars, and feel the beginning of a safe connection there, a comfort in the infinity of it all, offering perspective on our little lives.
Later in life, when I fell in love with my life partner Tony Stone, he introduced me to nature. Off the grid handmade outhouse solar powered Vermont cabin nature. One that his father built in the late 1960s and that he has been going to since he was born. Meeting that cabin expanded my life instantly, just "being there in the moment" and most of all getting to know where the cabin lies within his inner landscape and his childhood. I now understand a lot more about the magical place that nature can take in one's life. He would be an entirely different person without it, and it's such a big part of the man I love.
Hudson
Eight years ago Tony and I decided to leave New York City and urban life to find more space and time to make music and films. Hudson is where we landed; we had a slight Bard connection in that Tony had graduated from the film department years back, and his family has had ties here since the 1990's, but we moved here for simple geographical reasons. It was closer to Montreal, my home, while still close to NYC where Tony grew up. And there was more time and space to get things done.
All I knew was that I loved the 1850's house, the view, and the proximity to the Hudson train station. But it didn't take long to discover that our escape to a mini city in a rural setting was in fact a David Lynch utopia: The Altered States of an Americana Dream. A town with decaying yet beautiful bones, with an atmosphere of a forgotten or misguided dream… "It is all gold dust with broken plumbing," as a visiting Russian described it with conviction when passing through town recently.
The Factory
We fell in love with a building that occupied the view from our house. A beautiful, iconic 1880s Industrial Revolution factory. 17,000 square feet, solid brick, with terracotta tiled ceilings, intricate steel truss systems, and endless special corners, spaces, other rooms, and potential.
Upon moving to Hudson we met the owner who had done the dirty work of gutting its former glue factory insides. We offered to help him bring film and music to it; after a few casual conversations, he told me "it" was my "oracle" and shortly after made us the offer of a lifetime. One we couldn't refuse. He'd hold the mortgage and we'd take it over and fill it with our love of music and film. Not every day does a mystical man offer you a project of that scale. Not many times in a life can you hold a building in your mind's eye and project whatever you will into it. Basilica Hudson was born: a beast of a building turned multilayered center for arts and culture with intent to foster sustainable community.
It's been a learning curve of a journey to establish a public events center. In some ways similar to the project based experience Tony and I had making albums, films and touring with productions, but in other ways very different. Building the programming is based on gut instincts, friends and what we know, and as time has passed, the programming has been further informed by the region. The abundance of talents and people who work with the land and their hands here is remarkable, as is the rich tradition of "Culture meets Agriculture." The "what to bring into the factory" question has essentially answered itself; the question of long term sustainability and planning has been the challenge. Forming strategies to unfold and expand, keeping a hold of the initial mission, while living the daily grind—upkeep of the big building, minutiae of management administration, and timely necessity to promote the events—these are the challenges of a tiny team running a big dream. A multitasking overdose!
The magic lies in filling the space with people and pioneering, risk-taking work. Prior to having the building, when staring at it from our back balcony on our first new years eve in our new house, we had the vision of a 24 hour drone music event! Imagine people making a pilgrimage from the neighboring cities and small towns around, all in the name of sound! A group experience of long duration trance-like music and sound… 24 Hour Drone: Experiments in Sound and Music was born 5 years later. Taking place on the last weekend in April, it opened the season for our 2016 programing at Basilica, a gateway to new beginnings and setting a tone of sacred space for humans to commune in.
The Neighbors
More and more lately I find myself coming up for air from my 1x1 block reality of home and factory and I'm so inspired by all the others consumed by similar missions. Hudson is full of people like me. A recent study says that Columbia County has third biggest population of "creatives" per capita after Brooklyn in first place and Taos, New Mexico in second. The booming creative economy they are calling it, popping up in clusters across the map. No need to go into the reasons for that, that's another story, but says a lot about the place where this story happens. This region is a magnet for such people. These are my neighbors, the people I run into regularly on the street, at the local coffee shop, at the farmers market, at Basilica and sometimes on a rare outing out of town!
The Chef.
The Educator.
The Collector.
The Coffee Connoisseur
The Wine Dealer.
The Bar Owner.
The Auctioneer.
The Farmer.
The Welder.
The Herbalist.
The Dancer
We've had the opportunity to host some phenomenal dancers in Basilica Hudson since we launched in 2010. They seem to respond instantly (as do most others, whether performer or maker!) but the space inspires the creation of a lot. This spring Twyla Tharp, legendary trailblazer choreographer, came through our space. We were introduced, we'd never met, she knew the space was "mine" and she asked with an all-knowing slyness "How is it going here?" I spoke about about the journey, the discovery and the challenge of running an avant garde, not for profit, public events space and she followed my voicing of the situation effortlessly, as if she had been in my shoes before. Then she said "Bricks and mortar, always avoided it, kept moving, no anchor, no weight."
We spoke fluidly about it, me realizing while speaking to her that I had subconsciously—or perhaps consciously, hard to be sure—built myself a divine trap, a commitment that I could not turn my back on: much like my daughter River, born the year after we founded the Basilica. I did it. It didn't happen to me unwillingly, but I didn't realize that what I was doing was creating a place and a space to keep me rooted—rooted in a way that music, which you can't hold, doesn't do. Music is often seen as a journey apart from real time and place, and Basilica longs to be a real escape. Please do consider a visit this season…
***
When re-reading this, I realized how many times I used the words "space" and "place" and was curious about their usage. A quick Google Dictionary search convinced me that both words can be used to describe the Basilica and all it is and can be:
Space: a continuous area or expanse that is free, available, or unoccupied.
Place: a particular position or point in space.